Throughout August, iZotope is offering discounts of up to 85% off regular on its groundbreaking software.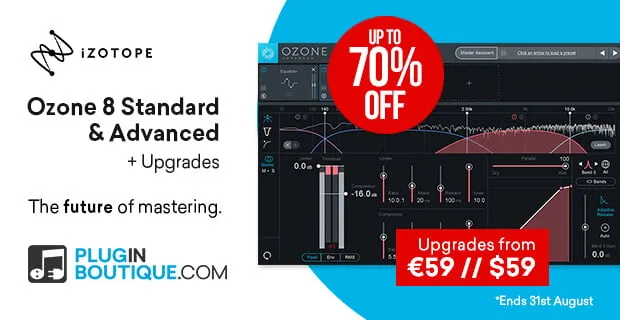 There's no better time to take the next step in your music production voyage. With fresh and amazing deals on music production software all month at Plugin Boutique, there's no shortage of savings to take advantage of. Time to strap yourself in, chart your course, and blast off into the music production universe.
During the sale you can get up to 50% off on the Neuron 3 mixing tool and up to 70% off Ozone 8, the comprehensive mastering solution. The Mix & Master Bundle is also 50% off.
Insight 2, Nectar 3, RX7 Standard and VocalSynth 2 are 30% off, and the Music Production Suite bundle is up to 85% off including upgrades/crossgrades.
The offer expires September 2nd, 2019.
More information: iZotope