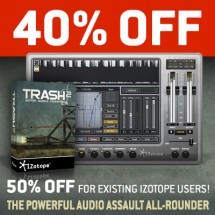 Time+Space has announced a limited time promotion for the Trash 2 effect plug-in, offering extra discount for existing iZotope users.
Described by Future Music magazine as "/a plugin deserving unequivocal recommendation to anyone making computer music of any kind/", iZotope's Trash 2 is famed for its superb ability to distort and transform your audio into something you've never heard before.

Give your low end some thump, get a warm crunch on the mid range, and let your high end soar — all without the over-hyped side effects (unless, of course, that´s what you want). Trash any track: not just guitars and basses, but drums, synths, pads, vocals, brass, woodwinds, and more.

But Trash 2 is not just about distortion — Explore new sonic dimensions with the Filter, Delay and Dynamics modules. Breathe life and movement into your audio using the dual Filters. Modulate, invigorate and apply exotic filter sounds, then control and manipulate each node with LFOs, envelopes and side-chaining.

A filter bank unlike any other, you´re free to custom-design your ultimate filter styles and reach the bleeding edge of sound design.
Polish it all off with Trash 2´s rich, organic Delay options and a new analog-modeled compressor worth turning up to 11 — plus, iZotope's ear-friendly Limiter will keep you and your speakers safe through it all!

From wild to subtle audio mangling, Trash 2 is an audio assault all-rounder that will give your music the edge to stand out.
Throughout June 2013, Trash 2 is available to purchase for £109 GBP/129 EUR (40% off regular).
The upgrade from Trash to Trash 2 is £35.95 GBP/41.95 EUR (50% off), including the Edge Expansion pack (£21.95 value) and the new expansion pack due for release June 12th. Previous iZotope customers can purchase Trash 2 at 50% off with a crossgrade price of £94.95 GBP/111 EUR.
More information: Time+Space