Time+Space has announced that iZotope has launched a range of discounts across its Ozone 7 mastering software as well as the Music Production Bundle.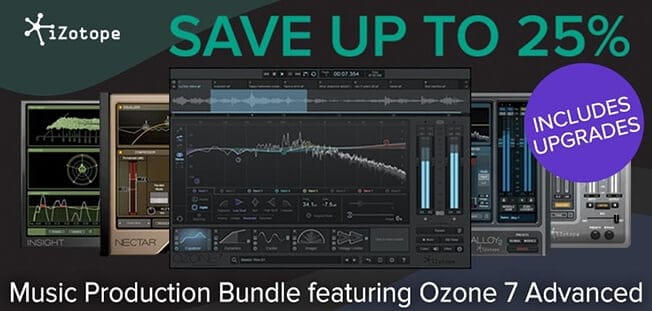 Step into the award-winning Ozone 7 and produce a professional and polished sound with its critically-acclaimed mastering tools. The standard version is just £135 in March (normally £169), or dive deeper with the Advanced version – now only £309.00 (normally £379).

Alternatively, for just £70 more, you could own the five iZotope software tools found in the Music Production Bundle. Combining Alloy, Nectar, Trash, Insight and Ozone 7 Advanced, this bundle delivers a go-to collection of the industry´s best mixing, mastering and vocal production plug-ins worth over £740, for only £379!

Upgrades

Existing Ozone users who are yet to upgrade can purchase the critically acclaimed Ozone 7 Advanced from as little as £102.95.
Or, upgrade to the Music Production Bundle and get Ozone 7 Advanced PLUS Alloy, Nectar, Trash and Insight for just £205!
Offers end 31st March 2016.

Double Discounts!

Anyone who buys/upgrades to the Music Production Bundle is eligible to purchase iZotope's new RX Plug-in Pack Upgrade for just £32.95 until 21st March.
The RX Plug-in Pack delivers the essential tools for audio repair including the removal of background noise, clipping, buzzing and anything else that makes your valuable recordings unusable.
More information: Time+Space