iZotope has released Nectar 3, the latest version of the popular vocal processing plugin.
The update features the Vocal Assistant with Unmask functionality, Celemony Melodyne essential, two new dynamic EQs, redesigned modules, RX Breath Control, and much more.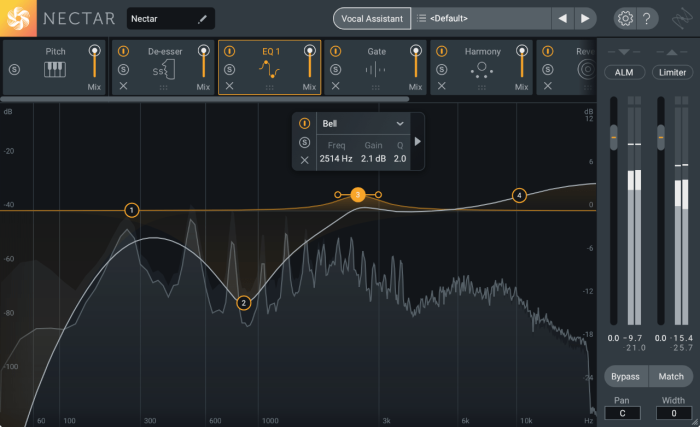 "We're excited about this feature because it's the first time one of our audio technology assistants has considered audio on another track in order to make better decisions about how to fit vocals in the mix," says Russell McClellan, Principal Software Engineer.

"The tracks in your mix affect one another in complex ways, so it makes sense for an assistant to be able to see things from a broader viewpoint than that of just one track."
Nectar 3 features
Vocal Assistant: One-click custom preset creation created with machine learning technology to help your vocal fit in the mix in seconds.
Unmask puts your vocal at the forefront of your mix by carving away other competing mix elements directly from Vocal Assistant's menu screen.
Dynamic EQ with new Follow EQ Mode to track down pesky resonances and remove them in real time, saving valuable time and energy.
Auto Level Mode adjusts the level of your vocal before it even starts processing, eliminating the need for corrective dynamics or riding the fader.
Inter-plugin Communication: Nectar 3 can communicate with other instances of iZotope plug-ins in your session to address mix issues, tonal balance, masking and more.
Component RX 7 Breath Control plug-in for reducing unwanted breaths without sacrificing audio quality with the power of iZotope RX 7.
Melodyne 4 essential for GRAMMY-award winning time and pitch correction.
iZotope Relay: your hub for intelligently connecting your entire mix to your iZotope plug-in collection.
Hundreds of professionally-designed presets for music and dialogue applications.
Twelve redesigned and updated modules for completely vocal-focused production and mixing including: Corrective and Creative Dynamic EQs, Compression, Harmony, Pitch, De-Esser, Saturation, Reverb, Gate, and Dimension.
Delay: Two brand new modes and new independent controls for stereo support.
De-esser: New interactive threshold design experience that can be auto-set with Vocal Assistant.
Saturation: Two new Saturation modes, Decimate and Distort.
Harmony: Increased number of voices you can add from 4 to 8, improvements to MIDI mode experience for easier playability.
EQ: Ability to add two EQ instances of up to 24 bands with Dynamic processing for frequency and pitch.
Compressor: Ability to add two Compressors. New interactive threshold design with interactive visualization.
Reverb: Additional third EQ node for additional shaping flexibility; immersive visual display.
Dimension: New Chorus and Phaser modes with interactive UI.
Nectar 3 is now available for the intro price $199 USD from iZotope and distributor Plugin Boutique (regular $249 USD).
Also released is Music Production Suite 2, a collection of over 30 plugins.
Music Production Suite 2 gives you access to over thirty industry-standard plugins that interact across your session and provide time-saving assistive features, innovative new workflows, and cutting-edge visual analysis tools. From vocal production to mixing and mastering, this go-to plug-in collection is everything you need for music production.

Through inter-plugin communication, iZotope plug-ins in your session can send and receive diagnostic information, help you make mix decisions, ensure translation across devices and streaming services, and more. By automating the tedious in-between processes of music production, Music Production Suite 2 lets you spend more time doing what you love instead of troubleshooting. Music Production Suite 2 is an extension of your creativity, enabled by iZotope audio science.
The bundle includes Nectar 3, RX 7 Standard, VocalSynth 2, Insight 2, Ozone 8 Advanced, Neutron 2 Advanced (with Visual Mixer), Tonal Balance Control, and iZotope Relay.
Music Production Suite 2 is on sale for $599 USD (regular $999.99 USD).
The release of Nectar 3 also sees the introduction of the new Vocal Chain Bundle, which including Nectar 3, VocalSynth 2 and RX Elements.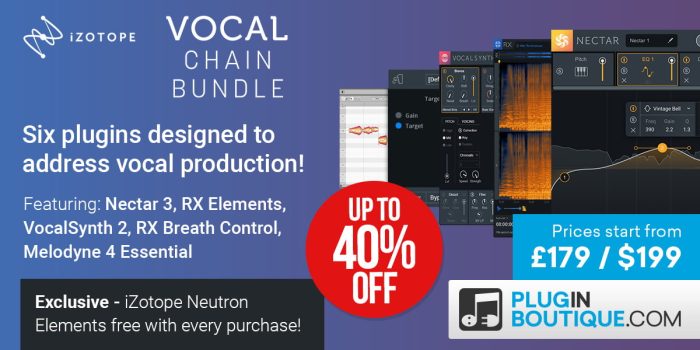 The all-new Vocal Chain Bundle is a curated collection of six plug-ins designed to address vocal production from tracking through the final mix.

Correct pitch, timing, breaths, and common recording problems with Melodyne 4 essential, RX Elements, and RX Breath Control. Play with styles and textures, create synthesized vocal parts, harmonies, and vocal effects with VocalSynth 2.

And when you're ready, get your vocal to sit in the mix with Nectar 3, the most sophisticated set of tools designed specifically for vocal production.
The bundle is on sale for $399 USD (regular $499 USD).
The offers expire January 2nd, 2019. Existing iZotope users can upgrade or crossgrades at a discount as well.
More information: iZotope