Plugin Boutique has launched Neutron and Neutron Advanced, the mixing tools by iZotope that combine the latest innovations in analysis and metering with award-winning audio processing.
Neutron comes with the new Track Assistant that lets you create a custom preset based on your audio to get you to a faster starting point. It also features the new Masking Meter that allows you to visually identify perceptual frequency collisions, which can result in guitars masking lead vocals, bass covering up drums, and other issues that can cause a "muddy" or overly crowded mix.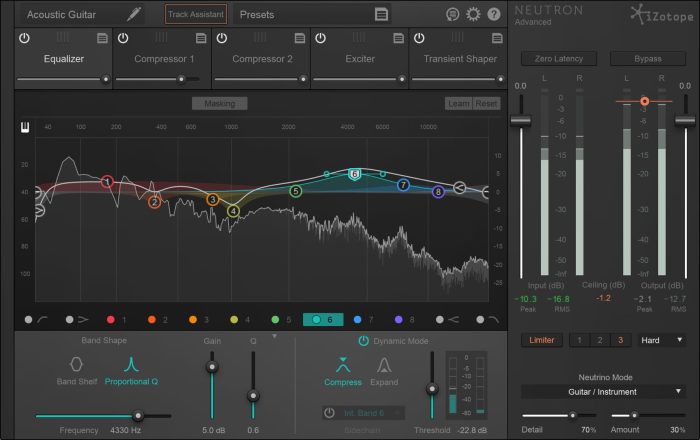 Neutron features some of the best audio processing we've ever created allowing you to achieve better sounding mixes inside your digital audio workstation.

It includes five industry leading mixing processors, all zero-latency capable, including a static/dynamic Equalizer, two multiband Compressors, a multiband Exciter, and a multiband Transient Shaper, as well as an ultra low-latency BS.1770 True Peak Limiter – perfect for all your mixing needs.
Neutron features
Automatically detect different instruments – like vocals, dialogue, guitar, bass, and drums – and then apply the spectral shaping technology within Neutrino to provide subtle clarity and balance to each track.
Get recommendations for optimal starting points using Track Assistant, including EQ nodes, compressor thresholds, saturation types, and multiband crossover points, so you can mix with confidence.
Carve out sonic space with the revolutionary Masking Meter to help each instrument sit better in the mix.
Create the perfect mix with five essential mixing processors integrated into one CPU-efficient channel strip, packed with both clean digital and warm vintage-flavored processing.
Surround Support [Advanced Only] for audio post professionals that need to enhance the audio for picture experience.
Individual plug-ins [Advanced Only] available for the Equalizer, Compressor, Transient Shaper, and Exciter.
Neutron Advanced includes all features of Neutron, and additional individual plugin version of the Equalizer with Masking Meter, Compressor, Transient Shaper, and Individual Exciter, as well as surround support up to 7.1.
iZotope has also released Music Production Bundle 2, which includes Neutron Advanced, as well as Ozone 7 Advanced, VocalSynth, Nectar 2 Production Suite, Trash 2 Expanded, RX Plug-in Pack, and Insight.

This incredible value combines seven of the most popular tools from iZotope's portfolio.

Neutron Advanced for clear, focused mixes. Ozone 7 Advanced, the comprehensive mastering suite packed with classic vintage models. Complete vocal production with Nectar 2 Production Suite and the creative playground of VocalSynth. Unlimited distortion and sonic mangling with Trash 2 Expanded. The essential audio repair and restoration tools of the RX Plugin Pack, and the TEC award winning metering solution Insight.

These are plugins professionals have relied on as "secret weapons" for years, now available as a complete package for a special price.
Neutron and Neutron Advanced for Windows and Mac (VST/AU/RTAS/AAX) are now available at introductory prices at iZotope and its distributors. The Music Production Bundle 2 is also on sale at up to 30% off.
More information: iZotope