Plugin Boutique has announced a sale on RX 6, the industry standard audio repair tool that's been used on countless albums, movies, and TV shows to restore damaged, noisy audio to pristine condition.
Visually identify and repair problems with the standalone RX Audio Editor application, or use the plug-ins in real time in your favorite DAW or NLE.

RX 6 features cutting-edge technologies for post production like lav mic de-rustle, dialogue isolation, and low-end wind rumble removal. It also introduces creative approaches to age-old music recording problems like microphone bleed, sibilance, mouth clicks, and breaths. With version 6, RX advances to the next level of audio repair that once seemed impossible.

The Advanced version also features powerful, time saving dialogue editing tools and industry firsts like De-rustle and Dialogue Isolate, developed from machine learning.
The sale offers up to 50% off, including Elements, Standard and Advanced, as well as upgrades and crossgrades.
Also on sale is the RX Post Production Suite, the bundle that includes RX 6 Advanced, Neutron 2 Advanced, RX Loudness Control, Insight Metering Suite, alongside exclusive content and video tutorials.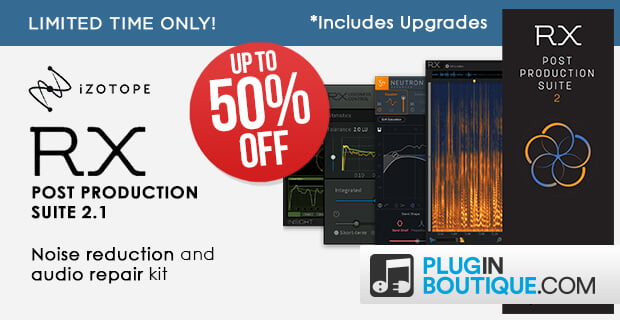 There has never been a more comprehensive solution for your production audio—from audio repair, editing, and mixing enhancement through final delivery. Save up-to 50% off for a limited time only.
The sale ends May 1st, 2018.
More information: iZotope