Time+Space has announced that the Stutter Edit effect plug-in by iZotope is available at a 40% discount for a limited time.
"There's nothing like Stutter Edit – no other plug-ins have successfully combined buffer chopping, live performance, remixing, and "studio thinking" to this extent." – Keyboard Magazine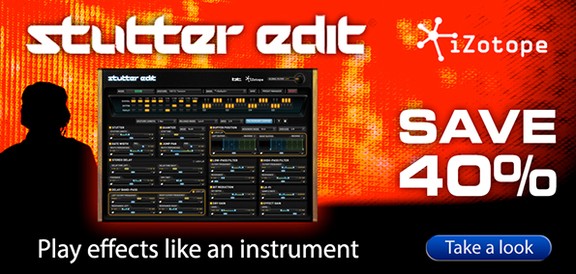 Designed by top producer BT and developed by iZotope, Stutter Edit is an innovative tool for both studio and stage that delivers cutting edge audio slicing and manipulation.

Tear up your tracks in real time, building thrilling fills, complex effects, shimmering sweeps, and staggering stutters that will leave your listeners screaming for more. They'll think you spent hours slaving over the slices… but all it took was a press of a key.

How does it work?
Stutter Edit´s features revolve around an innovative engine that continuously samples live audio, storing that audio in a buffer that can be manipulated in a myriad of ways. Click the link below to find out more!

Who's already using it?
Imogen Heap and Friendly Fires are among Stutter Edit's list of famous fans plus Hospital Record's CEO London Elektricity who describes the plugin as "A fantastic toy. Toy in a good way! Very creative and fun. You can mess up anything in a very intuitive and musical way. The only way to understand it is to get it!"

Wise words from the formidable DnB figure and throughout July you can get it for 40% less!
Stutter Edit is available from Time+Space for RRP £109 GBP/129 EUR until July 31st, 2013. A purchase also includes a code to download Groove 3´s Stutter Edit video tutorial at no cost.
More information: Time+Space / Stutter Edit