Fabrizio Poce has announced the release of J74 ARPline, a flexible MIDI plugin for Max for Live / Ableton Live specialized in arpeggio creation and manipulation.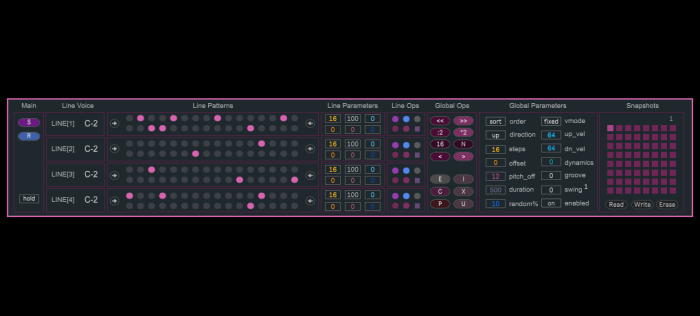 At its heart it is composed of four independent lines, each one capable of the same features and independently tweak-able.

A line is a programmable pattern and has its own controls for step number, step offset, playback direction, speed, signature, probability and more.

When settings are combined across the lines, these features allow you to create complex poly-metric and/or poly-rhythmic arpeggio's.
J74 ARPline features
Fully programmable arpeggiator with four independent lines.
Random generation of new patterns, globally and for each line separately.
Random mixing for new combinations of patterns, globally and for each line separately.
Line Step Number and Step Offset for poly-metric playback across the lines.
Line independent Speed for poly-rhythmic combinations.
Line Direction and Trigger Probability.
Line pattern shift left/right (per line) to allow syncopation.
Periodic random pattern changes, for each line independently.
Global Step Number and Step Offset for syncopated playback (e.g. less than 16 or odd step number).
Pattern memory (line slots): 10 slots available to each line independently.
Pattern mixing (combination of patterns across the lines), for up to 15,000 different combinations.
Pattern presets: save and recall on the fly your own patterns (own preset saving).
Snapshots: save and recall snapshots of the entire device configuration.
Groove/Dynamic effect (timing and velocity for humanized feel).
Swing effect (to step timing), with 12 modes including MPC-like swing.
J74 ARPline is available for 12 EUR ex. VAT where applicable. Requires Ableton Live 9.7 (with Max 7.3.4) or Ableton Live 10.
More information: J74