J74 has released version 3.0 of Progressive, a set of tools for chord progression making and harmonic editing in Ableton Live (Max for Live).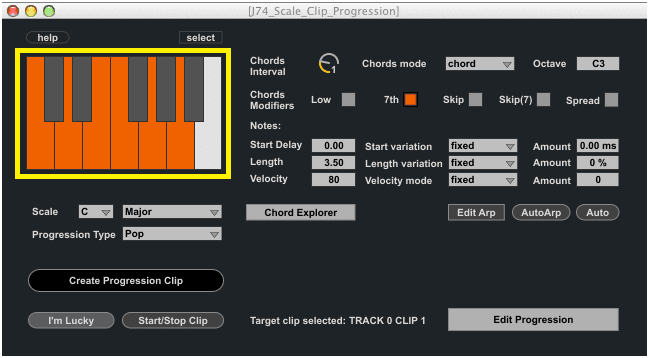 Progressive allows you to create and edit chord progressions as MIDI clips, by use of composition techniques modelling (such as diatonic scale and chords exploration methods) as well as performance styles (arpeggio, humanized timing and dynamics).
Changes in J74 Progressive v3.0
New Live Mode (chord real-time MIDI sequencing)

Allows real-time sequencing of chords in the progression (without needing MIDI clips).
Supported: Velocity, Chord Modifiers (7th and alteration, major/minor force).
Not Supported: Skip, Spread, Inversions, Dynamics (velocity, timing, duration).

New Chord Explorer (new window)

Shows the chords available on each degree of on the selected scale.
Allows you to test chords quickly (e.g. to answer the question: what if next chord is this?).
Triggers for chords can be MIDI mapped (e.g. live use), so you can jam and get ideas.
Shows the chord Tension of the available chords (see [Show Tension] toggle).

New Custom Scale options

You can edit the scale and create a new scale from the Chord Progression Editor (Main window).
If you use BassLine in combination with Progressive you need BassLine version 1.0.3 to support this on BassLine.

New Grid Split function in Clip Modifier

Split the notes in the selected clip based on the grid length. Useful to split long, hold notes or chords into rhythmical repetitions.
Can produce interesting results if combined (after clip commit) with other functions (e.g. [Swing] to produce rhythmical changes or even harmonic rhythm).
J74 Progressive is available for purchase for $15 USD.
More information: J74 / Progressive
&feature=youtu.be