J74 has released version 3.1 of Progressive, a Max for Live plugin suite for chord progressions.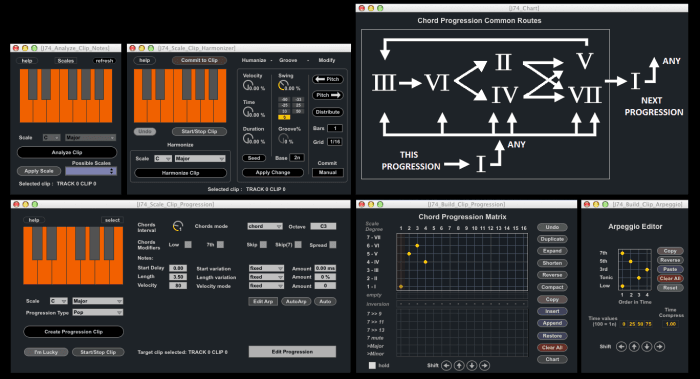 Progressive allows you to create and edit chord progressions as MIDI clips, by use of composition techniques modelling (such as diatonic scale and chords exploration methods) as well as performance styles (arpeggio, humanized timing and dynamics).
Changes in J74 Progressive v3.1
Custom Chords

You can now define custom chords shapes for forcing chords out of the diatonic boundaries.
You can define two different custom shapes and use them freely in your progression.

Forcing chords Roots

You can now choose a different chord root when forcing, even outside the selected scale. For instance, if you have a C Major scale, you will be able to force a chord to Bb Major.
Tension updated to show the distance from the diatonic region of the circle of fifths.

Circle of Fifths View

Visualize relationships between chords.
Change diatonic mode.
Rotate the circle.
In sync with Chord Explorer and other settings.

Clip Modifier

Shift up/down to next/previous note in scale (keeping octave).
J74 Progressive is available for purchase for $15 USD.
More information: J74 / Progressive