Jam Origin has announced version 1.0 of its MIDI Guitar software which turns any standard guitar into a universal polyphonic MIDI controller. This means you can now add just about any virtual instrument or synthesizer to you guitar effect arsenal.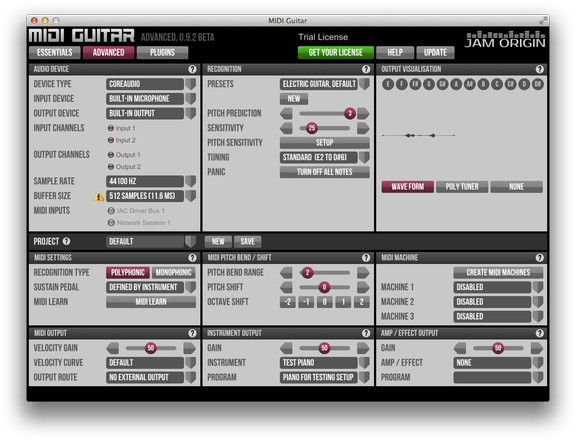 "We developed this in dialog with more than two hundred guitarists and studio musicians" says Ole Kristensen, founder of Jam Origin. "Users reports confirm it performs comparable to inconvenient hardware MIDI guitar solutions. Many were astonished to discover that all of the best sounding virtual instruments, samplers and soft-synths, are now immediately accessible right at the fingertips on a trusted old guitar."

On stage, guitarists can use MIDI Guitar to layer guitar sounds with any virtual instrument or synthesiser to expand the impact of live performances or create unique sound signatures. In the studio, MIDI Guitar integrates seamlessly with your favourite DAW and your can build entire arrangements with bass, keyboards, strings and more, with only a standard guitar interfaced with a DAW.

According to Jam Origin the technology in MIDI Guitar has been more than 6 years in development by now. It is based upon patent-pending polyphonic pitch detection and -prediction technology that can recognize polyphonic signals, such as complex chords or finger-playing with minimal latency and spurious hits.

"Ever since I first thought of polyphonic pitch detection, the problem of detecting multiple notes played simultaneously by a musical instrument, I have been hooked on finding a solution" says Ole Kristensen, founder of Jam Origin. "The fact that trained musicians can perfectly recognize chords by ear has been my driving force since day one and I have been convinced that a computer could do the same. The real break through however, is a new pitch prediction method that reduce latency to a unheard new level in polyphonic pitch detection."

Traditionally the world of MIDI guitars have been impassable terrain for most guitarists. Mounting and endless adjusting of hardware pickups, using expensive hardware units with several cable links to get it to interface with a computer with the appropriate software made it a quest for the few. Jam Origins approach is very simple in comparison and fits a modern workflow: Run the MIDI Guitar software and select any synth or virtual instrument plugin installed on your system.

Hardware MIDI guitars have also always been accused of problems with latency and accuracy. Jam Origin's software approach is not a promise to end that in this first version at least.

"Our initial aim was to produce a pure software technology that is comparable to hardware, but radically easier to integrate in a modern workflow." says Ole Kristensen, "That said, we will now raise the bar and MIDI Guitar 2.0 might outclass hardware if the industry does not keep up."
MIDI Guitar is available to purchase for $99.95 USD. For a limited time its comes with a license to the upcoming MIDI Bass free of charge.
More information: Jam Origin / MIDI Guitar