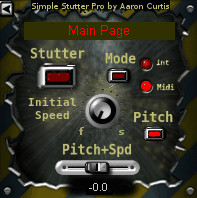 JC Productionz has released the Simple Stutter and Simple Stutter Pro effect plug-ins for Windows.
This is a stuttering vst plugin for PC, which will give you that kool stutter effect used by artitsts like Skrillex/BT & countless others.

Simple Stutter doesn't freeze the audio buffer but rather samples the incoming audio, then you can change the pitch and speed to your liking. It took several months to perfect the engine driving Simple Stutter
Simple Stutter features
Stutter preview button.
20 octaves of pitch control.
Small and compact.
CPU efficient.
Automation of main controls.
Simple to use.
Control via MIDI CCs.
Simple Stutter for Windows (VST) is freeware.
A Pro version of Simple Stutter is also available.
The big difference between Simple Stutter Pro and Simple Stutter is that this pro version can be played with your midi keyboard, you just insert Simple Stutter Pro on the desired audio track then point your midi track to send midi to Simple Stutter Pro, this greatly simplifies your stuttering work cause you will be recording midi notes.

Simple Stutter Pro also has a filter with pitch and resonance control, an LFO and a bit crusher to dirty up the sound. And exclusive to the pro version is the "Pounder", akin to a natural compression effect. Using pounder will result in a more subtle stutter effect which is useful in situations where you want the stutter effect to blend in more.
Stutter Edit Pro costs $12 USD.
More information: JC Productionz