Roland has announced the latest addition to the ZEN-Core Model Expansion lineup available through Roland Cloud.
Based on Roland's influential JD-800 hardware synthesizer released in 1991, the JD-800 Model Expansion celebrates the 30th anniversary of this vintage digital icon by bringing it to modern players through the ZENOLOGY Software Synthesizer and select Roland hardware instruments with the ZEN-Core Synthesis System.
In an era dominated by preset-focused digital synths with limited hands-on controls, the JD-800 brought the synthesizer world back to its roots with a massive control-laden panel and an aggressively electronic sound palette. With its retro workflow, evocative sounds, and powerful effects, the instrument became a favorite for top electronic music producers through the '90s and beyond.
Combining the original JD-800 waveforms with advanced modeling techniques, the JD-800 Model Expansion captures the sonic behavior of its vintage counterpart with 100-percent authenticity, coupled with deep sound-shaping potential through a full recreation of the JD-800's vast control architecture.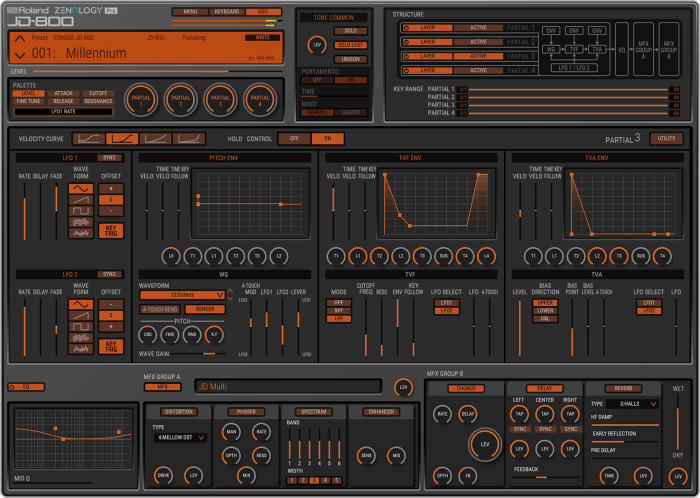 The JD-800 Model Expansion is currently supported with Roland's ZENOLOGY and ZENOLOGY Pro software instruments and JUPITER-X and JUPITER-Xm hardware instruments.
Model Expansions for ZENOLOGY are included with the Pro and Ultimate membership levels of Roland Cloud.
All paid levels—including Core—start with a free 30-day trial of Ultimate, allowing users to try out software-based Model Expansions and other Ultimate features. In addition, any Roland Account holder can purchase Lifetime Keys for individual Model Expansion titles, providing unlimited access for as long as their account is active.
More information: Roland