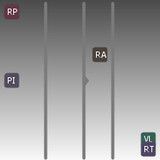 Jeremy Wentworth has released version 0.2 of Grain Main Frame, an easy-to-use granular sample player.
Changes in Grain Main Frame v0.2
Record audio – Press q key to start/stop recording, wav files are stored in the samples folder.
Resample audio – Press w key to playback the last recorded sample.
Better samples – samples mashed into less files for more variety and lower download size.
Note: Beads library only supports 16bit samples.
Several bug fixes.
More features and fixes coming soon…
Listen to a Grain Main Frame demo recording below.
Grain Main Frame is available to download as a freeware cross-platform Java application.
More information: Jeremy Wentworth