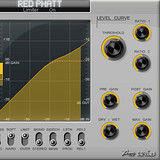 Jeroen Breebaart has released version 1.0.1 of Red Phatt Pro, a compressor/expander plugin for Windows PC.
Red Phatt Pro provides flexible and powerful dynamics processing. Whether you need smooth and transparent dynamic range reduction, gating, expansion, New York-style compression, or simply squeeze a drum track to phatten the sound, Red Phatt Pro will perform the job for you.
Changes in Red Phatt Pro v1.0.1
New GUI with larger parameter value display.
New function: maximum compressor gain / attenuation.
New display including maximum compressor+limiter gain history.
Several minor algorithmic optimizations and improvements.
Bug fix for some hosts that function bypass to VST plugins.
Red Phatt Pro is available as a VST effect plug-in for Windows PC for 10 EUR. A demo version is available from the product page.
Visit Jeroen Breebaart for more information.