Designed to slot effortlessly into every studio no matter how big or small, JoeCo's BBWR24B has joined the BLUEBOX range of Workstation Interface Recorders as the most affordable BLUEBOX yet.
More than just a high quality interface, the 24 channel BBWR24B is also a trusted, professional multi-track field recorder and a unique back-up solution that ensures no source recordings are ever lost. Only BLUEBOX delivers all three core functions in one 19-inch rack-mounted unit.

Offering 24 balanced line inputs, 16 Adat Lightpipe inputs with SMUXII support for higher sample rates and 24 balanced outs, the BBWR24B will back-up all of your source recordings, all of the time, providing the ultimate safeguard against unexpected DAW freeze and failure. Each BBWR24B can carry up to 24 channels of 24bit/96kHz audio in both directions simultaneously over USB 2.0. All local recordings are professional standard broadcast WAV files (BWF) on universally accepted FAT32 disk format. The USB 2.0 host interface supports both Windows (via dedicated drivers) and Mac (via Core Audio) with a locally generated zero latency monitor mix for monitoring during overdubs.

While the BBWR24B offers front panel access to core controls, users can access a wealth of control and customisation using the JoeCoControl app for Windows or Mac.

In addition to the launch of the affordable BBWR24B, a substantial upgrade to the JoeCoControl app will also make its debut at The NAMM Show, bringing new added-value features across the entire BLUEBOX range.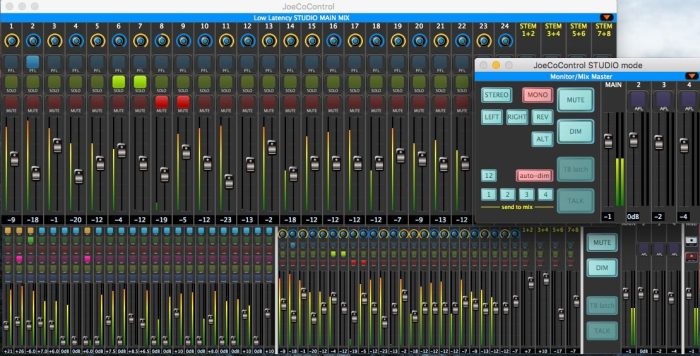 Available for free from the JoeCo website, JoeCoControl now boasts an unparalleled suite of functions, including:
Full control over input parameters
Dedicated mode selection for Live, Studio and Mix down situations
Creation of multiple zero latency headphone sub-mixes with gain, pan, solo, mute, and PFL
Support for in-studio talkback and studio monitor switching capabilities
Mono/stereo/left/right/reverse monitor switching, plus dim, mute, solo and PFL
A dedicated transport control panel with record and stop buttons plus useful disk information
Mix mode gives the ability to use a number of outputs and inputs as sends and returns for outboard equipment during mixdown
"The BLUEBOX range has already received a fantastic welcome, and now we're delighted to introduce a version that will work no matter which mic pres you choose to use," commented JoeCo Managing Director Joe Bull. "The BBWR24B, particularly when used with the expanded control and customisation options of the updated JoeCoControl app, is an extremely powerful but affordable solution for interfacing with your DAW, recording in the field and ensuring that none of your recordings are ever lost, even if the power fails."
The BLUEBOX BBWR24B will receive its official launch at The NAMM Show, taking place at the Anaheim Convention Center in California from January 19th to 22nd.
JoeCo can be found on booth 6911. Contact JoeCo for more details regarding the BBWR24B, including local pricing.