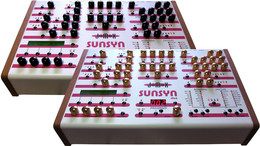 Jomox has announced the SunSyn Mk2, an 8-voice true analog synthesizer.
Yes, the rumors are true. The highly sought-after Sunsyn 2.0 will be manufactured again in a very small run.

We have given a visual face lift to our 8-voice wonder, while undertaking the very difficult task of acquiring the rare yet necessary parts to enable this new production. This will ensure that the new version will sound exactly the same as the old one!
SunSyn Mk2 features
2 analog VCOs.
2 digital wavetables/samples – uploadable.
Analog x-pole filters with morphing.
Analog envelopes.
Digital LFOs.
Analog routing matrix, which takes 50% of the hardware space on each voice card.
The SunSyn Mk2 will be available in a limited run, priced at 4999 EUR.
More information: Jomox