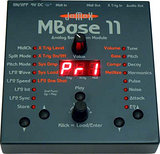 JoMoX has released the MBase 11, an analog bass drum module.
Finally: The first bunch of MBase11 are shipping to our dealers!
Now you can also purchase them directly in our webshop at the list price of 249 EUR.
MBase11 features
110 presets (10 User RAM, 100 FLASH).
Fully analog sound engine with storeable parameters.
Analog envelopes.
LFO with 8 waveforms: Saw +/-, Sine +/-, Tri +/-, Rect +/-, modulates the pitch, midi syncroniseable.
LED display, 7-segment 3 digit.
Midi In/Midi Out.
1 data wheel, 1 potentiometer, 5 buttons, 16 LEDs for parameters and functions.
1 mono out 1/4″ RCA jack, ~0dBu output level.
External input: analog trigger, sensivity adjustable.
Visit JoMoX for more information and audio demos.