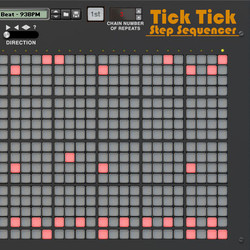 Josh Levy has released the Tick Tick Step Sequencer, a pattern sequencer Rack Extension for Reason.
Tick Tick is a polyphonic button-style step sequencer designed to control your BOOM 808 Percussion Synth as well as other Reason drum machines, and monophonically send notes to other Reason synthesizers and devices.

Chain multiple Tick Tick units together, each with its own pattern, to create complex combinations, and even entire songs.

Tick Tick includes a full beat pack by Reason Refill maker -008′. Also included are contributed demo beats, combis, and over 1,500 scales and modes.
Tick Tick Step Sequencer features
16 note polyphonic step sequencer, with editable names and assignable midi notes.
Up to 32 steps per pattern, from whole notes to 1/128th notes.
Shuffle control.
Forward, reverse, pendulum and random repeat modes.
Two velocity levels.
Chain multiple units together to create whole songs or complex patterns.
Automation and cv control for starting and stopping.
Individual cv outs for each instrument.
Massive beat pack by -oo8'.
More than 1,500 scale and mode patches for use as a note sequencer or arpeggiator.
Run and stop controls for previewing Tick Tick patterns.
The Tick Tick Step Sequencer is available to purchase at the Propellerhead Shop for 32 EUR.
More information: Josh Levi / Tick Tick Step Sequencer