Plugin Boutique has launched a sale on the JST Bus Glue Bundle, offering a 50% discount on the collection of bus compressor plugins by Joey Sturgis Tones for a few days only.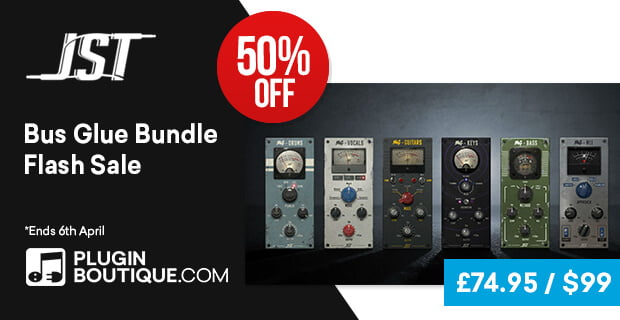 Bus Glue is a series of bus compressor audio plugins created by Joey Sturgis Tones. The compressors are designed to be placed on the main instrument bus / track group buses in your mixer. Each set contains a unique compressor design for the following six groups: Drums, Guitars, Vocals, Bass, Keys, and finally Mix.

These compressors excel at controlling the dynamics of specified mix bus groups in a mix using a variety of compression and saturation types combined with over a decade of mixing knowledge and lots of practical field testing across several genres of music.
The JST Bus Glue Bundle is on sale for £74.95 GBP / $99 USD until April 7th, 2019.
You can also get a 30% discount on the Conquer All Bundle, a collection of four impulse response libraries.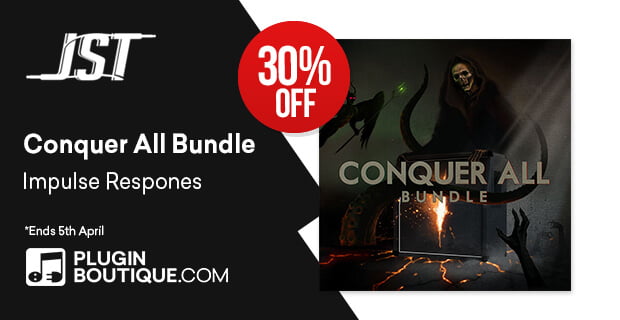 Behold one of the best collection of Impulse Responses for heavy music ever created.

This collection of IRs is made up of four sets each their own beast. Create a new monster tone from your existing amp setup with just one IR, or combine IRs to break new ground forge unique sounds. The choice is yours, and the possibilities are almost endless.
Regularly $89 USD, the bundle is on sale for $59 USD until April 6th.
More information: Joey Sturgis Tones