At London's ABTT Theatre Show, the next generation R-4 wireless microphone system from JTS will make its UK debut on the booth of FBT Audio (UK) – stand B41.
Designed for maximum ease of use, set-up in under one second and able to swiftly adapt to its environment, the full diversity R-4 is remarkably compact, delivering four channels plus a suite of high-end features in a 1U, 19-inch rack mountable, rugged enclosure.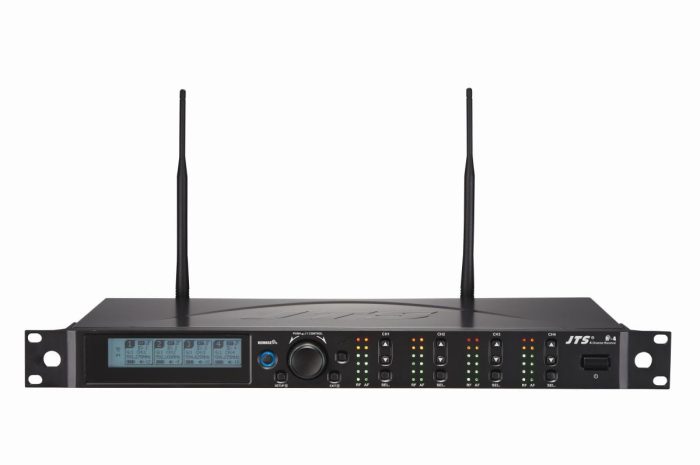 Originally launched to great acclaim at The NAMM Show, the R-4 is the latest example of JTS wireless innovation and roadworthy design. Built to overcome today's squeezed spectrum, the UHF system is channel 38 ready, providing more coverage within a limited bandwidth. System set-up can be achieved in less than one second courtesy of the renowned JTS REMOSET technology – users can sync all data between receivers and transmitters with a single button push.

Each compact 1U receiver also includes integral antennas and a power cascade feature, meaning multiple receivers can be linked with ease and no additional equipment, facilitating the quick and simple creation of far larger wireless set-ups. The R-4 is the ideal solution for applications as diverse as touring sound, theatres, schools, commercial installations, corporate events and conferences.

"We're delighted to bring the JTS R-4 to the UK for the first time at ABTT," commented Mark Parkhouse, Managing Director of FBT Audio (UK). "The magical feature of the R-4 is how compact the receiver is – just 1U of standard rack space for four channels of wireless on channel 38. With the integral antenna and power cascade feature, you can very easily create, for example, a 16 way wireless system using only four receivers. Plus with REMOSET you can set the whole system up in less than a second – literally just the press of a button." Additional features include interchangeable capsules on all handheld transmitters, slot-in transmitter charging and discreet body-packs.
One-on-one demonstrations of the JTS R-4 will be available throughout the ABTT exhibition, taking place at London's Alexandra Palace on June 6th and 7th, on stand B41.
More information: JTS