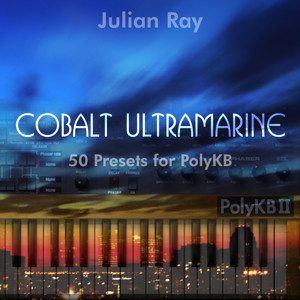 Julian Ray has announced the release of Cobalt Ultramarine, a free collection of patches for the PolyKB II synthesizer by XILS-lab.
Cobalt Ultramarine is a taster pack of the forthcoming KOBOLD SERIES, a three volume collection of soundsets for PolyKB II, including many rich, textured, deep instruments, designed for Ambient, Electronica, Space, New Age, Soundscapes, Chill Out, Longe, and Soundtrack works.
Cobalt Ultramarine features
50 presets for PolyKB II.
Strings / Brasses / Pads / Soundscapes / FX / Organs / Keyb / Leads / Basses / Synth.
Cobalt Ultramarine for PolyKB II is available as a free download.
More information: Julian Ray