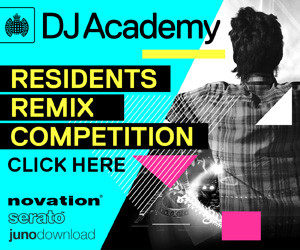 Juno has launched the Ministry of Sound DJ Academy Resident's Remix Competition, a chance to win some great prizes and have your tune featured across all Ministry of Sound networks, and the MoS Saturday Sessions radio show.
Joe and Will Ask? & Michael Woods & Cosmonauts have each given us the stems to one of their biggest tracks.

The team here at MoS DJ academy are giving you the opportunity to remix whichever one you like!… (or even all three separately if you're that way inclined, just don't mash them up)

All you've got to do, is register and download the stems from Juno and get yourself in the studio. Given the variation of the tracks and not to mention the variation of the musical tastes here at MoS HQ, any and all styles are welcome.
You can submit your remix until December 21, 2011.