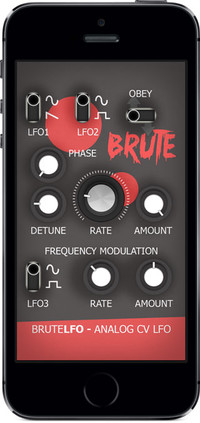 Justus Kandzi has announced the Brute LFO, a powerful low frequency oscillator that modulates your analog gear.
If you have a hardware synth that allows you to use external gear to modulate the pitch, the filter, or any other parameter, just plug the Brute LFO into the CV in and start playing.

It consists of three separate LFOs. LFO 1 and 2 can be controlled using the control elements in the top half of the screen. The big knob in he middle sets the rate of both the LFOs. Additionally you can change the waveforms of the LFOs, detune LFO 2 and change its phase. The amount knob in the top half also sets the overall amount of the modulation.
The elements on the bottom half (LFO 3) can be used to modulate the frequency of LFO 1 and 2.
And the brute switch destroys everything!
Bruto LFO for iOS is available to purchase for $3.99 USD.
More information: Justus Kandzi