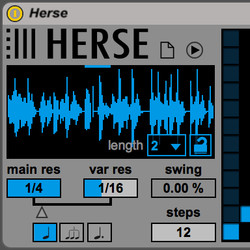 K-Devices has introduced Herse, a new Max for Live device audio effect designed to rearrange and process audio in real time, released in partnership with Ableton.
HERSE is perfect to refine your sound, massively or slightly. You can heavily process your drum loops, or add echoes and cuts and clicks to guitar, voice, or any other kind of source. As an audio effect, HERSE works with live audio input, so you can use it with your clips, or just feeding it singing, playing any external or virtual instrument.

It's composed by two main section: the slicer grid, and sequencers based effects. The buffer works tightly linked to the audio input, so you do not need to wait before start slicing, just hit play and go!

HERSE lets you apply different effects amount to any step: each parameter takes advantage of an exclusive step sequencer. Developed on the Max 6 engine, taking advantage of gen~, HERSE supports both 32 and 64 bit mode. No external objects are used in HERSE.
Herse is available to purchase at the Ableton Pack Shop for 19 EUR / $29 USD. Requires Ableton Live 9.0.1 or higher and Max 6.1.6 or higher.
K-Devices has also launched two special offers in celebration of the release of Herse.
Dropped price on Drumk2!

To celebrate the availability or HERSE, our new slicer, we are offering a special discount on our other slicer DRUMK 2: until March 31st CET 2014 it will be available at 19€, the same price of HERSE, instead of 29€ as normally. For an exhaustive features comparison please check the table at bottom of HERSE product page.

The Deal: get more M4L power for less!!

Applying the code kdeal to the cart, customers now can get a 20% of discount automatically. This offer is available on orders bigger than 50€.
More information: K-Devices