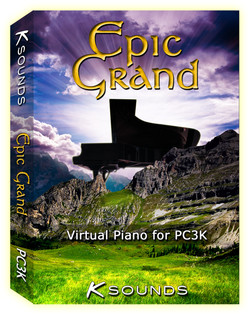 K-Sounds has announced the release of Epic Grand for the Kurzweil PC3K, a sample library featuring detailed stereo samples of a Japanese grand piano.
Epic Grand was designed with quality in mind. The samples were recorded and edited at 176.4kHz, 24 / 32 bits, then converted to PC3K-compatible specifications for the final product. A close mic position was used, creating an up-front, studio sound. The stereo image is wide, centered, and mono-compatible. Every note has a generous, natural-sounding sustain.

Five bank sizes are included. The 121Mb bank offers four sampled dynamic levels for realistic dynamic response across the keyboard. Additional independent elements such as damper resonance, release resonance, hammer noises, and damper noises bring the piano to life. Subsets of these samples are provided in 80Mb, 42Mb, 28Mb, and 13Mb bank sizes, allowing PC3K users to manage their keyboard's 128Mb sample memory.

Epic Grand's damper resonance samples are true recordings of the sympathetic string resonance heard when notes are played with the damper pedal down. Sampling the actual resonance of a real piano provides authenticity that surpasses digital effects and convolution. This resonance is presented as an independent component of the instrument, allowing users to adjust its volume or disable it altogether.

Epic Grand is designed to be incredibly playable. It was constantly played during its development to ensure that it responds dynamically and musically.
Epic Grand features
Close-miked samples of a Japanese grand piano.
Up to four stereo sampled dynamic layers.
True sampled damper resonance.
Release resonance samples.
Hammer noise samples.
Big "studio" sound with modest sample memory requirements.
Wide stereo image.
Mono compatible.
Fully programmed for the PC3K.
Five bank sizes facilitate sample memory management.
Designed to be incredibly playable.
Epic Grand for the PC3K is available for purchase for $95 USD. Additional formats are also available.
More information: K-Sounds