2getheraudio has announced the release of K1CK Synth, a virtual instrument with a new hybrid synth engine designed specifically for creating and delivering a huge range of electronic kick drum sounds.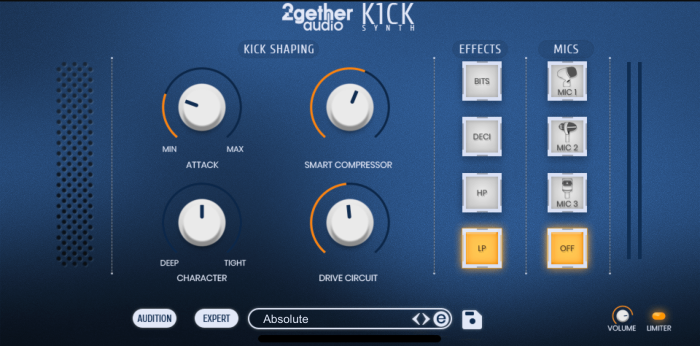 Two interfaces, Simple and Expert, give producers a highly optimized set of sound design controls for fast auditioning, simple tweaking or fine tune control of kick drum sounds.
"The perfect kick drum is not easy to achieve and yet it's critical to every music track no matter what the style," says Jennifer Hruska, CEO of 2getheraudio. "Like all 2getheraudio products, we set out to make the sound design process easier and faster while delivering super professional results. I'm not kidding when I say this plugin delivers some serious kick, and making your own signature sound with K1CK Synth is finally a fun thing to do!"
Under the hood, K1CK Synth uses a custom audio engine with sampled attack transients and specialized synth oscillators to generate the initial big body sound. Individual envelopes for pitch and amplitude shape the decay while customized drive and compression circuits dial in the punch. Effects, including bit crushing, decimation, and low pass and high pass filters deliver a huge range of possibilities for extra character and edge. Finally, three kick drum microphone options add the polish.
For those without the time or expertise to fine tune all these parameters, K1CK Synth offers a Simple View which exposes just four sound control knobs, 4 effects buttons and 4 mic options for quickly dialing in your sound. When needed, and Expert View takes you under the hood for finer control.
K1CK Synth features
Electronic Kick Drum maker with simple and expert editing options.
100 fully editable Kick Drum presets.
Highly customized macro controls designed for quick kick drum editing.
Advanced control over kick drum attack, body, dynamics, character and mic selection.
Includes VST, AU, AAX plugin formats for compatibility with all DAWs.
Powerful hybrid synth engine delivers floor breaking bass, booming 808s, acoustic lo-fi kicks, and a whole lot more..
Super easy to make your own killer kick drum sounds.
Select from three popular kick drum microphones.
K1CK Synth is available to purchase under 2getheraudio's Pay-What-You-Want (minimum $10) pricing model off their website.
More information: 2getheraudio