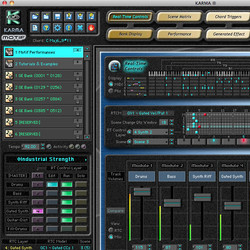 Karma-Lab has released KARMA Motif Software version 3.1, a major update that adds support for several more Yamaha instruments and Mac OS X Mavericks 10.9.
KARMA Motif brings developer Stephen Kay's award-winning and patented KARMA algorithmic music technology to a number of Yamaha Motif-based models, giving them extensive new interactive groove generation, arpeggiation and arranger-like capabilities. The software uses the Song/Mixing/Multi Mode of the Motif-based instruments to provide 16 part multi-timbral templates with the kind of fully interactive real-time controlled grooves that only KARMA can produce.
Changes in KARMA Motif Software v3.1
Supports 5 Yamaha instruments: Motif XF, Motif XS, MOXF, MOX and Rack XS.
Supports Mac OSX 10.4.11 through 10.9.x Mavericks, Universal.
Supports Windows XP through Windows 8.1, 32 and 64-bit.
Supports the Steinberg CMC-PD and CMC-QC external controllers, among others.
Adds additional control ports for use with more external devices at the same time.
New Previous Scene, Next Scene and Startup Scene functions.
New Phase Activity Display shows the relationship of each Module's Phase Pattern.
Support for scrolling via MouseWheel/Trackpad where applicable.
Revised and updated Help File including .pdf version; new and updated Tutorials.
Other new features, enhancements, and improvements.
KARMA Motif for Windows and Mac is available to purchase for $199 USD. The update is free for any current owners.
More information: Karma-Lab