Karoryfer Samples has announced the release of Secret Agent Guitar, a virtual guitar instrument with personality and character featuring the sounds of the Polish Defil Tarantella electric guitar.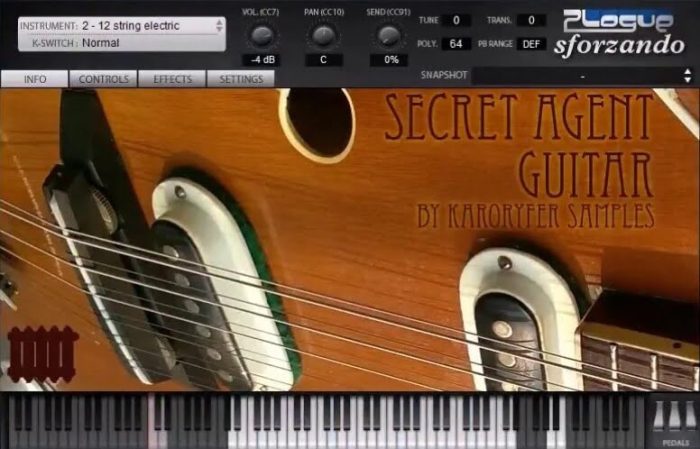 Most people sample the nicest guitar they can get their hands on, but we went for the most interesting. This is over 10000 samples of a Defil Tarantella electric guitar made in Poland in 1972, which is a lot like those cheesy old Japanese and Italian electrics of the 1960s, but even weirder.

We sampled it as a 6-string, as a 12-string, in Nashville tuning, and both electrically and acoustically. This is basically the ultimate quirky indie guitar, and a terrible guitar for death metal unless you're making death metal ironically.
Secret Agent Guitar features
Three articulations: pluck, hammer-on and harmonic.
Plucks sampled with 3 velocity layers.
All articulations sampled with 4 round robins in regular tuning, 3 round robins in Nashville tuning.
Feedback, string brushing noise, percussive noise and release noise sounds.
Every string sampled on every fret.
Low E string also sampled tuned down to Eb and D.
Three vibrato types: string-bending, violin-style and tailpiece.
Muting control for the spy movie twang.
Over 10,000 samples, 3.76 GB extracted.
Secret Agent Guitar for Plogue Sforzando version 1.933 or newer costs $39 USD. An introductory sale is available until September 30th.
More information: Karoryfer Samples