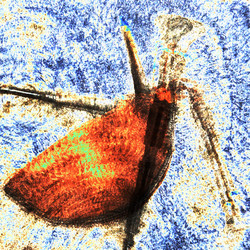 Karoryfer Samples has released Cowsynth, a sample library featuring medieval bagpipes mapped both as bagpipes and as a synthesizer.
For thousands of years, bagpipes have been the sonic terrorist's weapon of choice. Cowsynth brings that terror to the 21st century by taking samples of bagpipes and treating them as oscillators in a simple synthesizer. Though designed with obnoxious big room plucks in mind, it turned out to be a lot more than that.

Bagpipes with their strong upper partials make a very nice organic substitute for a saw wave oscillator, and with eight-voice unison they make great pads, strings and organs. And obnoxious bagplucks, too. The pipes themselves were built based on a medieval drawing (so they're not very Scottish), and the bag is cowskin – that's why we gave it the Cowsynth name.
Cowsynth features
One traditional and one chromatic bagpipes mapping.
Bagpipes mappings include separate voices for drone and melody, trills and keyswitchable chirps.
Five different synthesizer-style mappings with different unison and detune algorithm.
Synthesizer mappings include AHDSR envelope, vibrato and resonant low-pass filter controls.
All synthesizer mappings include pad, pluck and organ versions.
WAV samples and SFZ mappings.
13 MB download size.
The library is available to download at no charge. Requires Plogue Sforzando.