Yonac has released Kauldron, a new synthesizer instrument that offers analog-modeling, punchy and honest synth tones, a superb selection of modulation options, revolutionary A.I. based preset generation, and universal & AUv3 plugin all in one package.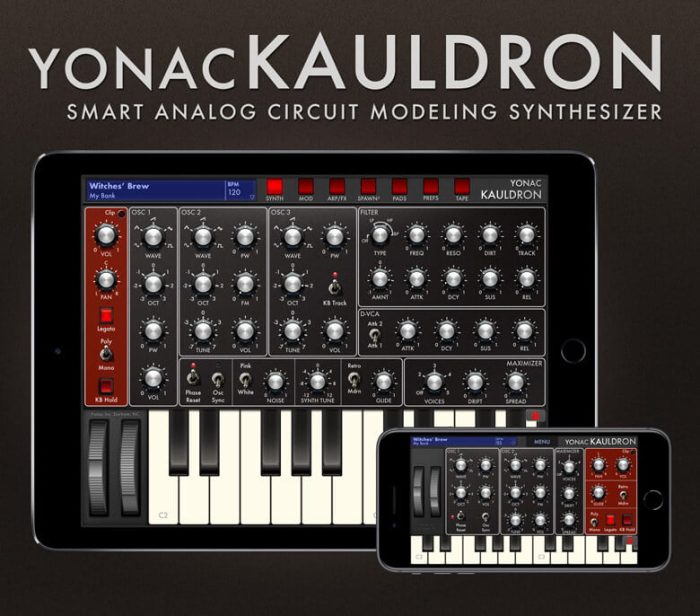 Yonac has been working long and hard to develop Kauldron's completely new virtual-analog technology, resulting in its warmest, punchiest synth to date.
We augmented this by designing many brand new features, so that big synth sounds come easily. Full of rich, complex analog textures yet deceptively easy to use, Kauldron is a pure, honest synthesizer that requires little help from FX or post-production to take centerstage.
Kauldron can run natively on iPad and iPhone, as well as an Audio Unit plugin. It is the first fullscreen AUv3 plugin for iOS, allowing you to enjoy all of Kauldron's features on a nice, big spread.
Kauldron also debuts the next generation of Yonac's Artificial Intelligence preset creation system, SPAWN².
Completely reimagining the groundbreaking SPAWN algorithms in our hugely popular Magellan, the new SPAWN² gives you unprecedented control over generating presets. In the expert mode, you can accomplish anything from subtle 'variations on a theme' to bold new sounds.

In the basic mode, where Kauldron does all the thinking, you get preset after usable preset with just a touch. This is not simple randomization: it is the power of machine learning put to benevolent use!
Kauldron features
Completely new analog modeling technology.
3 analog modeling oscillators with multiple waveforms & true PWM.
Frequency Modulation via Oscillator 2.
New v-Analog filter design with 'dirt' overload for even warmer, richer tones.
Dedicated filter ADSR envelope.
Filter tracking, contour & more.
Dedicated filter envelope.
Pink/white noise generator.
Oscillator phase reset & sync.
Retro & modern glide algorithms.
Virtual VCA envelope with 2 attack types.
Poly/mono operation.
Legato mode for buttery smooth passages.
Extensive modulation options via the 'mod matrix'.
2 LFOs with BPM sync, keytracking, trigger mode select & more.
Assignable mod envelope.
23 mod targets.
11 mod controllers, including aftertouch, velocity & key tracking.
4 MIDI-learnable custom modulation controllers (Mod Ctrls 1-4).
2 XY-Pads for controlling mod targets or synth parameters.
Arpeggiator with live & program modes, 11 algorithms, gate, swing, note value, octaving & more.
Stereo mod effect with chorus & flanger modes.
BPM-syncable stereo delay.
Studio quality reverb with 7 room types, damping, time & mix.
900+ presets in a wide variety of styles & sounds.
Artificial Intelligence based automatic preset generation.
Create infinitely many new, usable presets at the touch of a button.
Also use A.I. to create variation on a given preset.
Expert mode lets specify Variation & Autonomy for each major synth module.
3 Unique A.I. preset writing algorithms.
Auto arp programing in any listed scale or at random.
Universal: works natively on iPad and iPhone.
AUv3 Plugin Included.
Fullscreen AU mode in compatible DAWs & iOS versions.
AU plugin offers native processing at any standard sample rate.
Standalone app features Inter-App Audio, Audiobus, and Ableton Link.
Crystal clear, high quality audio generation.
Virtual ribbon control with polyphonic aftertouch, as well as classic keyboard.
Ribbon controller offers settable musical key & scale.
Classic KB offers virtual key velocity with adjustable sensitivity.
Extensive MIDI Learn options.
MIDI Maps manager with MIDI CC profile saving & sharing.
MIDI aftertouch controllable.
MIDI key mapping.
MIDI program changes.
Settable pitch wheel range.
Powerful preset management system with new features. Save, share & edit presets.
Tapedeck with loop, metronome, preroll, share, audio copy/paste & more.
Kauldron is available from the App Store for $3.99 USD.