Kazrog has updated its KClip mastering clipper effect plugin to version 2.0.1.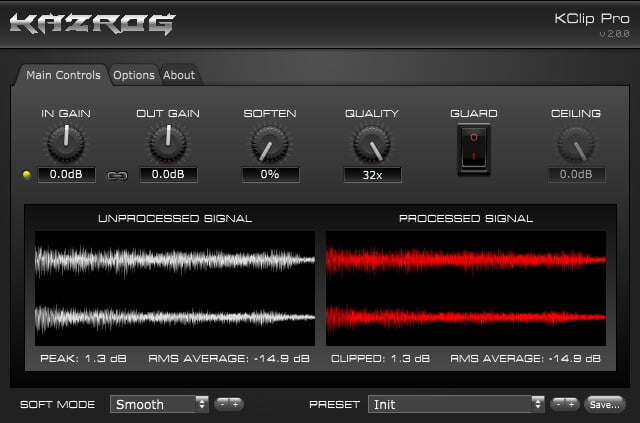 KClip is the most transparent way to increase the apparent loudness of your mixes during mastering. KClip isn't just for mastering, though – in fact, it's incredibly useful for adding warmth, distortion, or saturation to individual tracks – use it to fatten up drums, bass, synths, guitars, vocals, and more!
Changes in KClip v2.0.1
New: Adjustable FPS for the waveform scope.
New: Waveform scope enable/disable toggle.
Fixed: Crashing WaveLab 9 under some conditions.
Fixed: Waveform displays causing visual lag in OS X 10.10 and 10.11 in Pro Tools 12, Logic X, and some other hosts.
Fixed: Overall unreliability in Ableton Live due to CPU overload.
Fixed: Magix Sequoia offline rendering is non functional.
Fixed: Magix Sequoia CPU spikes changing modes.
Fixed: Some users are reporting sudden CPU load increases after bouncing in some hosts.
Fixed: Switching between soft modes on Mac is wonky.
Known issue: Waveform displays not functioning in some WaveLab versions (also present in 2.0.0).
KClip 2 for Windows and Mac (VST/AU/AAX) is available for purchase for $20 USD (Standard) / $60 USD (Pro).