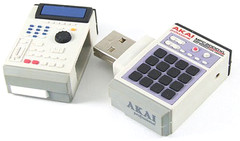 Keep It Bangin Music has announced the AKAI MPC2000XL & EMU SP1200 Flash Drives, two USB flash memory drives shaped like these vintage samplers.
Introducing the worlds first USB flash memory drive shaped like the Akai MPC 2000XL, one of Hip Hop's most classic drum machines / samplers. This is the long time favorite Sampler of producers such as Dr. Dre, Pete Rock, Just Blaze, Lil Jon and more! Akai's powerhouse drum machine has been immortalized as a 4 GB USB flash memory drive. Every nuance of the Akai MPC 2000XL has been captured in extreme detail! These unique devices are perfect for Hip-Hop beat makers, producers, and enthusiast on the go. This is the only portable data storage solution that screams "Hip Hop".
AKAI MPC2000XL / EMU SP1200 Flash Drives features
4 GB capacity, high quality Toshiba Flash memory.
Ultra high detail, super durable PVC rubber construction.
USB 2.0 support.
The AKAI MPC2000XL / EMU SP1200 Flash drives are available for pre-order for $39.95 + S/H, and are expected to ship mid May.
Visit Keep It Bangin Music for more information.