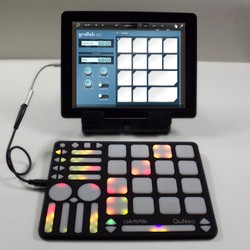 Keith McMillen Instruments, developer of the world's most expressive instruments for making music with computers, announces the release of QuNeo v.1.2.3, which includes a new "iPad mode" for truly mobile music making.
QuNeo's robust visual feedback system has been optimized for the limited power provided by the iPad through its Camera Connection Kit or Lightning connector. Now the iPad can power QuNeo directly, so artists can create and perform virtually anywhere.

Faster, meaner and cleaner QuNeo v.1.2.3 has optimized firmware with a faster scan rate that increases pad performance. Users executing drum rolls or rapid percussive techniques will notice improved responsiveness.

Released less than a year ago, the QuNeo has raised the bar for computer pad controllers and received praise from artists and users across many musical styles.

Artists using QuNeo include Herbie Hancock, Jack Conte, Thavius Beck, Ana Sia, illGATES, Richard Divine, Laura Escude, Krazy Baldhead, Infinite Sinewave, Amy Knoles, Diwon and Ghost Beach.

With the same sleek design dimensions (9.5″ x 7.3″ x 0.3″), QuNeo can use the same stands, cases and other accessories made for iPad.
QuNeo is available to purchase for $199 USD.
More information: Keith McMillen Instruments / QuNeo