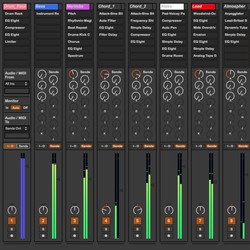 Kevin Kripper has released Ultimate Mixer, a mixer software for use in Ableton Live with Max For Live.
Ultimate Mixer is THE floating Mixer for Ableton Live…what was missing to complete it! It is built 100% in Max MSP and it works with both Live 8 and 9 (Max 6).
Ultimate Mixer features
Stretchable channels.
Live's skins adaptable.
Change the name and color of each track.
Inserts display.
Sends control.
I-O & Monitor control.
Add tracks (up to 50) and returns.
Stay-on-top.
Auto-resize depending on window size.
MIDI & Key Mapping.
Ultimate Mixer is available to purchase for $9.99 USD.
More information: Ultimate Mixer