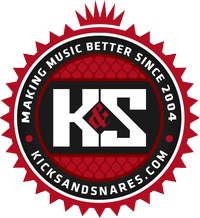 Kicksandsnares has introduced its new line up of sounds.
Since 2004 Kicksandsnares.com has established itself as one of the top providers of quality drum sounds on the internet. In 2012, veteran Hip Hop producer Jim Bond took over ownership & creative guidance of Kicksandsnares.

The new Kicksandsnares.com boasts an entirely new library of high quality drum sounds and samples. There are also ten all new demos, featuring production from well known Hip Hop producers such as RJD2, Black Milk, !llmind, Jake One, Frank Dukes, Djay Cas & Jim Bond.

Also, with Jim Bond as the new owner and creative director, Kicksandsnares has a creative perspective unique to the drum sound business. Jim Bond has over 12 years of experience in Hip Hop production and has worked with a bevy of popular rappers (Jim Jones, Ghostface Killah, Joel Ortiz, Lloyd Banks, Royce Da 5'9″, M.O.P. & many more). Bond is familiar with how the industry works and what standards of quality need to be met to be successful within the music industry.

Kicksandsnares' new line up of sounds consists of three different series which all cater to different styles of drum sounds. Each series contains separate kits for kick sounds, snare sounds, hi hat sounds and sometimes extras such as claps, shakers & other percussion sounds.
Kicksandsnares sounds
The Foundation Series (Foundation Kicks, Foundation Snares, Foundation Hi Hats & Foundation Shakers) – The foundation series takes traditional Hip Hop drum sounds and updates them with with a modern shine. They are a solid foundation for any Hip Hop producer. The Foundation Series also features bonus sounds created by Black Milk. The Foundation demo beats are produced by RJD2, Black Milk, Jake One and Jim Bond.
The Southern Comfort Series (Southern Comfort Kicks, Southern Comfort Snares, Southern Comfort Hi Hats, Southern Comfort Claps) – Based off of classic drum machines (808, 909, etc), the Southern Comfort Drum series. Punchy snares, crisp hi hats & ground shaking sub kicks. The Southern Comfort demo beats are produced by !llmind, Djay Cas and Jim Bond.
The Monster Series (Monster Kicks & Monster Snares) – The Monster series is allabout BIG sounds. Cracking roomy snares and big booming kicks. The Monster Series demo beats are produced by Frank Dukes & Jim Bond.
All drum kits retail at $12 USD each and contain between 35 to 50 sounds each.
More information: Kicksandsnares