Kilohearts has launched a Black Friday Sale, offering its kHs Toolbox for just $99 USD for a limited time, the lowest MSRP ever.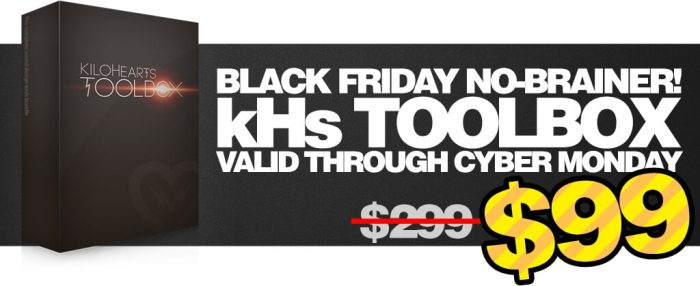 With this years additions the bundle is now up to 25 effects plugins, and the modular plugin Snap Heap that powers the rest of them up. You won't find another sound design bundle out there that can compete with the kHs Toolbox in content and price!
The Kilohearts Toolbox will change the way you think about sound design forever. It contains a huge number of high-quality audio effect building blocks and Snap Heap, the perfect tool for combining them.

Together these components offer incredible ease of use and versatility which leads to more creativity and inspiration. Forget about all those complex routings and sends! With The Kilohearts Toolbox you will be quicker then you ever thought possible!
Normally $299 USD, you can pick up the kHs Toolbox for just $99 USD until November 28th, 2017.
Also, you can pick up the Multipass band-splitting snap-in host at a 50% discount. This deal is available today only (Nov 24th).
More information: Kilohearts