Kilohearts has launched new bundles that offer discounts of up to 20% off on snapin audio plugins.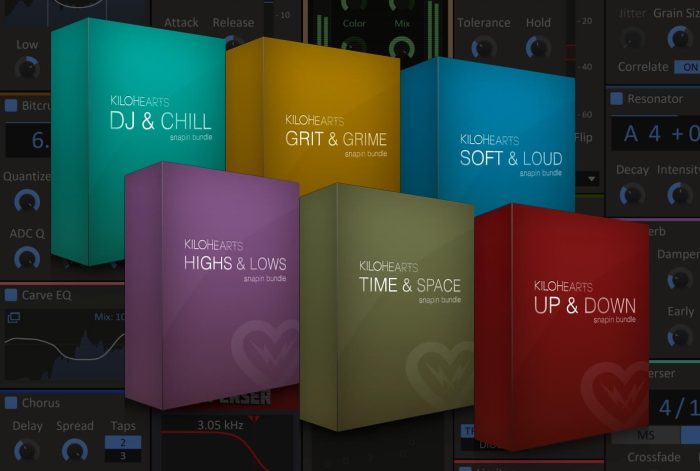 Snapins are regular effects that also work as modules in our Snapin Hosts. They are light-weight, but powerful, plugins that present you with the important settings in a no-nonsense way. Every setting and component is clearly documented so you know exactly what goes on when you turn that knob.
The following bundles are now available:
DJ & Chill – Creative snapins bundle: 89 EUR (regular 107 EUR)
Includes Reverser, Tape Stop, and Trance Gate.
Grit & Grime – Distorting snapins bundle: 119 EUR (regular 146 EUR)
Includes Bitcrush, Distortion, Faturator and Phase Distortion.
Highs & Lows – Filter snapins bundle: 79 EUR (regular 96 EUR)
Includes Comb Filter, Formant Filter, Filter, and Ladder Filter.
Soft & Loud – Transient shaping snapins bundle: 69 EUR (regular 87 EUR)
Includes Compressor, Gate and Transient Shaper.
Time & Space – Spatial snapins bundle: 79 EUR (regular 96 EUR)
Includes Haas, Phaser, Resonator and Reverb.
Up & Down – Shifting snapins bundle: 59 EUR (regular 67 EUR)
Includes Frequency Shifter, Pitch Shifter and Ring Mod.
The bundles also include Snap Heap along with the 6 free plugins that come with the host plugin (VST/AU/AAX).
More information: Kilohearts