Andy Baio of Waxy.org has launched a Kickstarter project for Kind of Bloop, an 8-bit tribute to Miles Davis.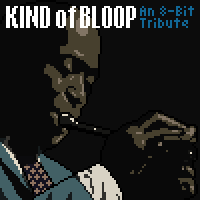 Andy writes:
I've always wondered what chiptune jazz covers would sound like. What would the jazz masters sound like on a Nintendo Entertainment System? Coltrane on a C-64? Mingus on Amiga?

I've researched the topic quite a bit, and was only able to find four jazz covers ever released — ast0r's version of Coltrane's Giant Steps and Charlie Parker's Confirmation, Sergeeo's own Giant Steps cover, and Bun's version of Coltrane's My Favorite Things. (If you know more, please let me know!)

So I asked ast0r and sergeeo, along with three incredible chiptune artists (Virt, Shnabubula, and Disasterpeace), to collaborate on a track-by-track remake of the album. I'm raising the money to legally release the album, pay the royalties1, print a very limited run of CDs for Kickstarter backers only, and pay the artists for their hard work on these very challenging songs.
Check Waxy.org for more information.