KINDZAudio has released an update to the DDZynth software synthesizer instrument. Designed for sound design and audio experiments, the synth combines granular, wavetable, FFT, FM and PM synthesis.
DDZynth is a Granular, FFT, Frequency Modulation, Phase Modulation, tool to mangle samples in a new way. It's not just sampler, it's a sample collider. Scan true wave, grab buffer from one wave to modulate or wave shape another, mix in FFT mixer to morph and cross mix, DDZynth is a tool to squeeze juice from your samples.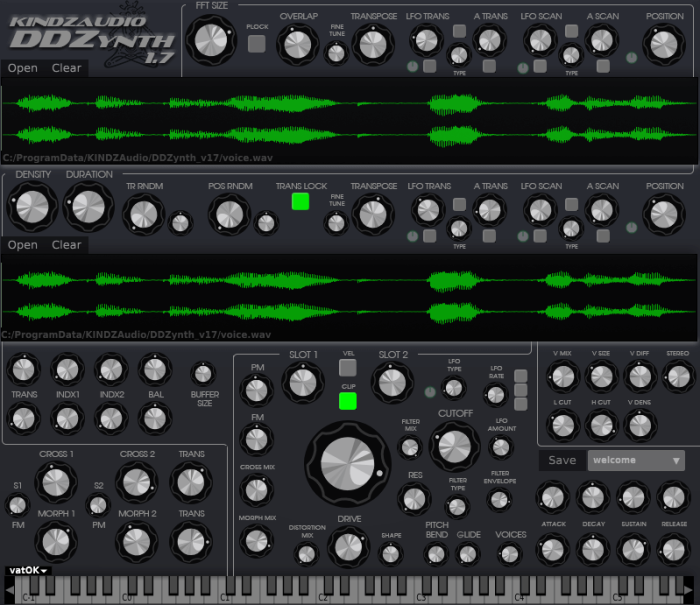 DDZynth features
2 sample slots to load WAV files, including drag 'n' drop.
Scan true sample with mouse click, with right button smooth scan.
FFT processor with controls for FFT size, transpose, transpose LFO & amount, start position and phase lock.
Granular processor with controls for density, duration, pitch & position randomization, transpose, transpose LFO & amount, start position.
5 LFOs for transposes, start positions and filter.
LFO note reset and BPM sync.
7 LFO waveforms (1 and 2 are from loaded WAV files buffer).
Mix section for Slot1 and Slot2, as well as true FFT cross and morph mixers.
Part of tables loaded to CrossFM and CrossPM sections to make evolving FM & PM sounds.
FM & PM can be mixed to FFT section.
Filter (HP, BP, LP), reverb send and gate send for creating gated MIDI parts.
DDZynth is available for in VST/VST3 and AU plugin formats for Windows and Mac, priced 70 EUR incl. VAT. A native Linux version is coming.
You can download a Lite version of DDZynth with reduced functionality for free.
More information: KINDZAudio