Kit Plugins has released an update to the BB N105 channel strip, an effect plugin designed to bring the legendary sound of Blackbird's Studio A console to your DAW.
Blackbird's Studio A console is literally a monument of music legend. After John McBride acquired the console in 2001, it underwent a breakthrough restoration process to bring it to its original heavyweight glory. The console then received a series of cutting-edge modifications from some of the most brilliant minds in the audio industry, making it not only extremely unique, but also arguably the best model of its namesake ever to exist!
Changes in BB N105 V2
Console frequency response accurately sampled from 20Hz to 96kHz.
Auto Gain enhances usability: as you add gain on the mic pre, the fader level now adjusts the output automatically to maintain dB level.
Continuous Gain optionally removes the notched movement of the mic pre gain, giving you more control of gain level.
Numbers (0.0) display the exact amount (to the nearest tenth of a dB) of gain added or subtracted on each EQ band and mic pre.
Updated resizable 3D GUI: you can now click and drag the bottom right corner to change the size of the plugin.
Fader Color: you can now change the color of the fader between black, silver, red, blue, and teal.
Oversampling: you can now adjust the sampling level from x4, x8, and x16 for higher definition or to relieve your CPU of intensive processing.
Includes custom pro presets in rock, pop, hip-hop, alternative, and more.
The free Burier saturation and filter effect plugin has been updated as well.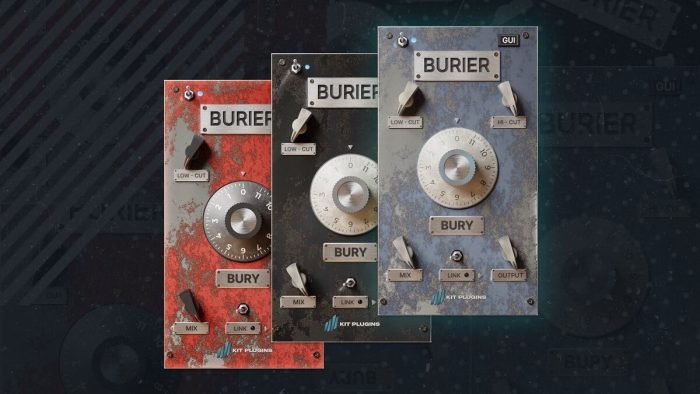 Version 2.0 features 3 customizable color options, a HD-enhanced resizable GUI, and sonically rich saturation.
It's equipped with a seriously savage saturation stage followed by a pair of resonant low- and high-cut filters for optimal tonal shaping. Burier also includes output attenuation and wet/dry mix controls. The filters have a 12 dB per octave slope and are IIR (Infinite Impulse Responses) featuring a TPT (topology-preserving transform) structure. Their behavior is based on the analog SVF (state-variable filter) circuit, which is a second-order RC active filter.
BB N105 V2 is available in VST3, AU and AAX plugin formats, and as a standalone software for Windows and macOS. It is priced $69 USD through November 29th, 2021 (regular $99 USD). The update from version 1 is free to existing owners.
Burier V2 is free to download from the Kit Plugins website.