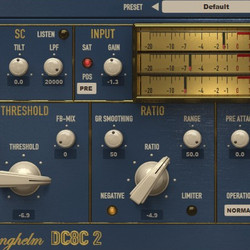 Klanghelm Audio Plugins has released version 2.2 of its DC8C advanced compressor effect plug-in for Windows and Mac.
DC8C is one of the most flexible compressors around. While making a lot of different compression styles possible, it's general nature may be described as: clear, smooth, open, distinct.
Changes in DC8C v2.2
FIX: overs in LIMITER mode under some circumstances.
CHANGE: feedback signal is grabbed before the output control now: so increasing output gain doesn't lead to more gain reduction, when feedback is used for the detector (FB-MIX > 0 and EASY modes).
CHANGE: updated feedback path to avoid "clickiness" at very short attack times and and heavy gain reduction.
CHANGE: when using the mix control the dry mix signal is the unprocessed signal without input and output gain and without saturation.
CHANGE: negative release PROG DEP is now possible in SMASH mode too making release times down to 2ms possible on extreme settings and high GR.
FIX/CHANGE: attack PROG DEP is working as expected now, it's been completely rewritten and detached from the release PROG DEP. So it's easier to use both attack and release PROG DEP at the same time.
CHANGE: internal timings of oversampled and non-oversampled operation are aligned now.
DC8C for Windows and Mac (VST/AU) is available to purchase for 20 EUR. The update is free for all existing users.