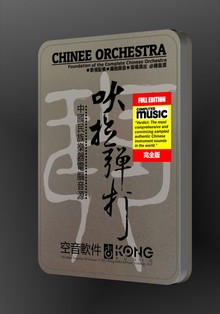 Kong Audio has announced that its Chinee Orchestra collection of sample-based Chinese traditional instruments will be available as a boxset shortly.
The boxset is currently is production. The disc will include the latest update to the instruments as well as the updated QIN engine player. Quite some instruments have been re-polished under the hood and are integrated with a new legato Extender module in the upcoming release, to provide a even more nuanced expressiveness to the instruments.

All of Kong Audio's updates have been free for existing customers since 2005, and this upcoming update will be available as free download too.

Chinee Orchestra, powered by Windows native QIN RV 2.0 engine, contains 22 instruments, covering strings, plucked, percussion and wind instruments: ChineeWinds, ChineeKong V3, ErHu and ErHu II, NanXiao, GuZheng II, PiPa, MaTouQin, SuoNa, GuanZi, Sheng, YangQin, HuLuSi, GuQin, LiuQin, SanXian. Ruan, JinHu, ZhongHu, GaoHu, BanHu, Xun, BaWu.
More information: Kong Audio