Kong Audio has announced the Chinee Series QIN Edition, a major upgrade release of its entire product line.
QIN (means "instrument" in Chinese) Edition is a major upgrade for the previously released Chinese Series instruments, powered by the Windows native QIN engine developed by Kong Audio.

QIN engine approaches sampler design with a layer of intermediary controls (called Extenders in QIN, there are 20 Extenders), helping sample developers as well as composers harnessing the advanced arrangement and manipulations of sample soundsets in a much more intuitive way without tapping into the scripting territory, yet still capable of producing complex and inspiring results.

Other than the change of sampler engine, Chinee Series QIN Edition also introduces the brand new ChineeGuZheng II to replace the old ChineeGuZheng; some instruments have bonus content added; all instruments have the presets remade to utilize the features of QIN engine. As the result, Chinee Series QIN Edition delivers a much better expressiveness and playability than before.

"We have made something that we are very proud of," said Dongsheng Shan, the CEO of Kong Audio and the producer of the Chinee Series QIN Edition. "Even though QIN is still a work in progress which has many flaws, it has allowed us to finally create the actually playable – in an authentic sense – Chinese instruments the way we had in mind when we first started."
Chinee Series QIN Edition features
Equipped with Windows native 32-bit QIN engine.
Comes with new and updated sample content, as well as new presets for all instruments, arranged and programmed by the top developer in the field.
QIN Edition allows access and arrangement of the soundsets, as well as the advanced processing using the Extenders, to the user.
The Chinee Series QIN Edition instruments are available to purchase separately or in several bundles (prices excl. discounts):
Kongplete – 15 instruments, $952 USD.
Essential China – 6 instruments, $396 USD.
Instant China – 3 instruments $216 USD.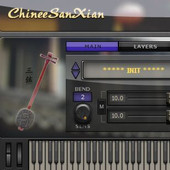 Kong Audio has also announced the release of ChineeSanXian: "The Banjo from the East".
SanXian (literally means "3 strings") can be traced back to Qin dynasty, 3rd century B.C. It is mostly known to the West thorough its Japanese decedent, samisen. SanXian's sound character is a bit similar to Banjo.

SanXian comes in a several sizes, the big SanXian can be a tough challenge for short musicians. Even though SanXian has always been a vital component in the Chinese music, in modern times people inclined to learn other instruments over it for various reasons.

SanXian is still widely used in all kinds of folk musical acts and performances everywhere. Nowadays in the Shanghai area, a revived form of performance, PingTan, is usually performed as a duet of a PiPa and a SanXian. Appreciating this kind of local forms of musical performances characterizes that China is, once again, embracing her own historical music tradition.

ChineeSanXian captures and recreates SanXian faithfully and is powered by the new Windows native QIN engine.
ChineeSanXian features
229 MB crafted and arranged sample soundsets.
Powered by the all-new Windows native QIN engine.
Windows XP/VISTA/Windows 7. 1GB RAM. Pentium 4.3GHz CPU.
Works in VSTi compatible hosts.
All samples are recorded in 1-bit/2.8 MHz.
ChineeSanXian is available to purchase for $60 USD.
Coinciding with Kong Audio's launch of Chinee Series QIN Edition, a 20 bucks no-brainer time-limited discount offer of ChineeGuZheng II is announced.
ChineeGuZheng II is newly released upgraded version of ChineeGuZheng, the sampled recreation of Chinese zither, with brand new sample content, powered by the advanced sample arranging features of the QIN engine. ChineeGuZheng II is much more detailed and much more alive than its predecessor.

Normally the price tag for ChineeGuZheng II is 60 USD. And now, with just 20 USD, composers can access one of the best GuZheng instruments available, and have the characteristic Chinese element at disposal.
The no-brainer promo is available until June 14th, 2011.
More information: Kong Audio