Kong Audio has announced the release of Bian Zhong: the Crowning Bells of China, a sampled instrument plug-in for Windows.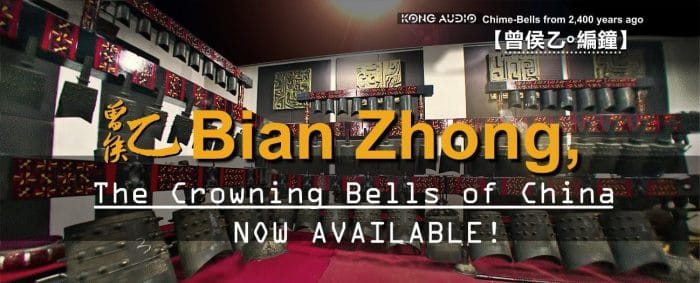 After the releases of the highly-acclaimed Chinee Orchestra Full Edition (COFE) and Standard Edition (COSE), Kong Audio presents the latest title: Bian Zhong: the Crowning Bells of China sampled instrument for Windows.

This Bian Zhong (Chime-bells) of ZengHouYi (Marquis Yi of Zeng) virtual instrument is a recreation from the stately bronze Chime-bells set that was played in the palace of the Warring States period of China more than 2,400 years ago.

The excavation of the ZengHouY Bian Zhong Chime-bells set in 1978 brought this most complete and immense set of ancient Chinese Chime-bells ever discovered back from history, and it revealed the lost oval design of "one bell with two tones." It also goes beyond the Pentatonic Scale and is only one octave less than the modern piano.

"Many experienced musicians here had worked hard at recreating these ZengHouYi musical instruments replicas. They learned about these instruments through the remaking process," says Mr. Yuan, the coordinator of this cooperation sampling project at HuBei Chime-bells Orchestra."We are told by experts, this is the best replica of ZengHouYi Bian Zhong in China."

Dongsheng Shan, the CEO of Kong Audio and the producer of Bian Zhong, says that they spent several years in planning sampling Bian Zhong. "This is one of the most prestigious Chinese ancient instruments. It's more than just a mere product, it is a part of the Chinese civilization. We want to make it right."

Ancient Chinese possessed some amazing metallurgical techniques and ingenious minds to create such a form of instrument with bells. Yet somehow it's lost in history after the Zhou dynasty for two millenniums. All the Chinese chime-bells in between were nothing like ZengHouYi chime-bells. It also has huge musicological significance, as it shines into the ancient Chinese music theory with the inscriptions on the bells.

Even to-day, one does not see the full 65 bells ZengHouYi Bian Zhong live performances often. The complete bell set is simply too heavy to be used for touring. The 23-bells set is more commonly used instead.

Now with Kong Audio's Bian Zhong, composers and musicians around the world can access these tremendous bells from their computer any time, any where, to draw sonic inspirations and to add the rich exoticness to their musical works.
Bian Zhong for Windows (VST) is available for purchase for $49 USD (23 bells) / $129 USD (88 bells Pro version).
More information: Kong Audio / Bian Zhong: the Crowning Bells of China