Kong Audio has announced the release of BianZhong BZ Bells, a sample-based App for iPad capturing the captivating set of ancient Chinese bronze Chime-bells lost in time till a few decades ago.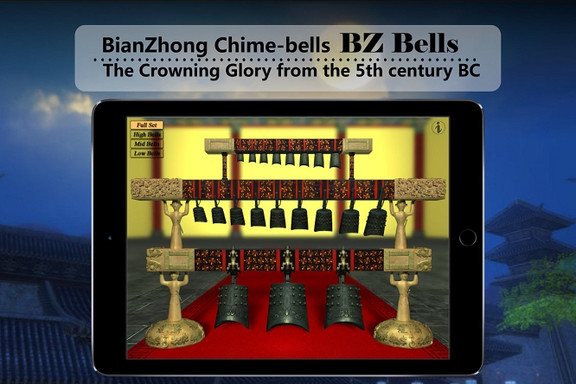 The biggest bronze chime-bells set ever found in China, ZengHouYi's (Marquis Yi) BianZhong (Chime-bells) has become a sensational Chinese national treasure since its excavation in 1978. Created about 2400 years ago, its unique oval design made each bell to have two tones. BianZhong Chime-bells were used for ritual and festival activities in the court of the feudal lords and kings during the Autumn and Spring/Warring States period (5th Century BC).

Sampled on-site at HuBei Chime-bells Orchestra, the serene and timeless sound of BZ Bells transports you right back to the Chinese palace at the beginning of the Chinese civilization.
BianZhong BZ Bells features
Sampled from the exact bronze replica of ZengHouYi BianZhong at HuBei Chime-bells Orchestra.
Switchable between playing three racks individually, or playing them all on one page.
User can reverse the order of each rack when each rack is played separately.
The app is available for purchase for $0.99 USD.
More information: Kong Audio / BianZhong BZ Bells