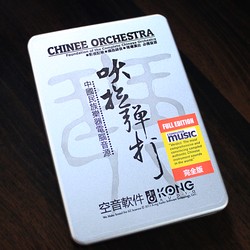 Kong Audio has announced the immediate availability of the boxed version of its Chinee Orchestra virtual instrument collection, and the release of QIN RV 2.10 engine update, as well as the updates for all Chinee Series individual instruments for Windows.
This major update puts focus on improving the legato expressions of various instruments, hence the soundbanks have been redesigned to work with the new Legato II Extender module. Now the instruments are more nuanced and expressive.

Chinee Orchestra contains 22 classic Chinese instruments covering the instruments of the modern day Chinese orchestra, powered by QIN RV engine player developed by Kong Audio. Chinee Orchestra is the de facto tool of choice for the Chinese professionals in China, and also an inspiration for the composers if the world.
Changes in QIN RV 2.10 engine/instruments
New Extender: Legato II ¡V enhanced nuance expression.
Enhanced Legato I in the polyphonic mode.
Enhanced logics for Legato and Keymaps.
Various minor improvements and bug fixes.
New presets added for most instruments.
New Clapper samples added to ChineeKong v3.
Instrument soundbanks revamped: ErHu, ErHu II, BanHu, JingHu, SanXian, ChineeWinds, NanXiao, MaTouQin, ZhongRuan have their soundbanks revised.
Both the QIN RV engine player and the instrument updates are free for all existing customers.
The Chinee Orchestra boxed version costs MSRP $690 USD.
Kong Audio is offering a time-limited launch offer for the Chinee Orchestra Box.

Kong Audio announces a time-limited promo campaign to coincide with the launch of Chinee Orchestra box version till the end of July. The first-time promo offer of Chinee Orchestra by Kong Audio.

Normally 690 USD, Chinee Orchestra box version now can be purchased for just 599 USD, plus free world-wide shipping during the box launch promo period.

The metal box includes a DVD disc and printed English/Japanese installation guides. Customers can also get the download version while waiting the box to arrive.
More information: Kong Audio