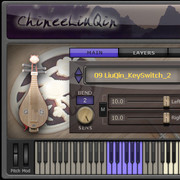 Kong Audio has released version 1.10 of ChineeLiuQin, a sampled instrument "Willow Mandolin" for Windows.
LiuQin is a grassroot folk instrument which was originally popular in some provinces of China for the last two centuries. LiuQin was a simple and rough instrument at the begining, and it was once referred to as "the plebs' Pipa" due to its lack of refinement – yet it is much closer to the true rural life. The structure of today's LiuQin has been redesigned in the mid-20th century. With the improved physical form, plus its higher pitch scale and its Western Mandolin-like acoustic effect, LiuQin has become a prominent instrument in today's Chinese classical circle.
Changes in ChineeLiuQin v1.10
QIN engine plugin changes:

New Extender introduced: Automatic Select. Automatic Select adds a new condition for sample-triggering according to note and time range between the notes. Especially useful for plucked instruments.
AHDSR envelope slope/curve settings added.

Instrument-specific changes:

Soundbank tweaks.
Presets tweaks.
ChineeLiuQin for Windows (VST) is available to purchase for $60 USD.
More information: Kong Audio / ChineeLiuQin