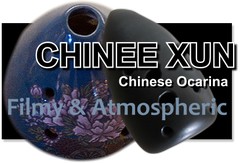 Kong Audio has released an update for the freeware ChineeGuZheng Classic featuring the new QIN RV 2.0 engine, and an update for ChineeXun, the virtual Chinese ocarina instrument.
ChineeGuZheng Classic has an extensive sampleset which contains various types of tremolo, slide, Glissando, and strumming. It is the predecessor of the brand new ChineeGuZheng II. The free ChineeGuzheng Classic powered by the brand new QIN RV 2.0 engine is now available for download.
ChineeXun, the Chinese ocarina, has had the sampleset updated with fixes and modifications. This update is free for existing customers.

QIN RV 2.0 engine sports 16 MIDI and Audio channels with multi-timbral capability and can load multiple KAI instruments for easier project and resource management. Some features of standard QIN RV instruments are disabled in the free GuZheng Classic:

Velocity Mapping in Keymaps Editor disabled.
Keywsitch 2 and Keyswitch 3 Extenders disabled.
More information: Kong Audio