Korg has announced two makeovers for its SV-1 stage piano.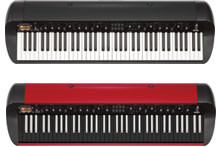 SV-1 Black: Combining great looks and incredible sounds, the SV-1 has been captivating audiences since 2009. Now, the acclaimed Korg SV-1 Stage Vintage Piano has been given an elegant matte black stage finish. Presenting the SV-1 Black; available with 73 or 88 keys.
SV-1 Reverse Key Limited Edition: Bold and curvaceous, with an impressive red body and a retro reverse keyboard! Packed with the retro sounds that defined an era and remain in demand today, the SV-1 Reverse Key is sure to complete any keyboard set-up, while captivating the ears and eyes of the audience. Only 500 pieces of each model are available in this strictly Limited Edition.
The Black Stage Vintage Piano will be available mid January, 2012 priced $2,700 USD (SV-1BK73) / $3,000 USD (SV-1BK88). The Reverse Key Stage Vintage Piano will be available May, 2012, priced $2,900 USD (SV-1R73) / $3,200 USD (SV-1R88).
More information: Korg